Most Popular Procedures
The Out Patient Dept. is free. Every year almost 1 lakh patients are being treated in the OPD.
CATARACT/ IOL Services
Vitero-retinal Services
Glaucoma Services
Cornea Services
Doctors Time Table
* Note : Timing of Consultants is subject to last minute changes.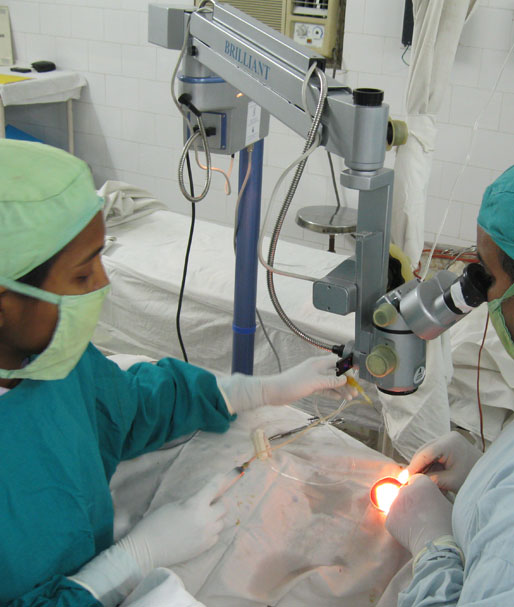 Welcome to Netaji Eye Hospital
RECRUITMENT NOTICE dated 29.04.2023

RECRUITMENT NOTICE 2023-24 : https://netajieyehospital.in/News/NewsDetails/9

NETAJI EYE HOSPITAL
,
a 100 bed rural based Not-for-Profit Super Speciality Eye Care Centre at & P.O. Ramchandrapur Ashram,  Dist. Purulia – 723 142, West Bengal run by Sri Sri Bijoykrishna Ashram Relief Society, a Regd. Charitable Organisation serving millions & millions of below poverty level & underprivileged rural/tribal as well as urban eye patients of West Bengal, Jharkhand, Bihar & Orissa for the last 58 years, now spreading its wings in Kolkata for the benefit of the economically handicapped eye patients of Kolkata & its surrounding areas.  The Mission of our Society is SERVICE TO MANKIND. It emphasizes upon ameliorating the sufferings of the poor, the blind and the afflicted rural masses. 
Why Choose Us?
See the difference
High Standard of surgery
NETAJI EYE HOSPITAL is one of the biggest and most modern eye care centre in Eastern India. It is the rural / tribal based, 100 bedded Eye Hospital serving the helpless & sightless people of the remote rural areas of West Bengal, Bihar & Jharkhand. Thousands & thousands of poor needy eye patients most of them who are from backward communities, are provided with free treatment facilities and availing the quality treatment & surgery through this Hospital.
Committed Surgical Team
With a view to extending its quality eye care benefits to the remote rural areas, the hospital has been organizing Outreach Eye Screening Camps throughout the year. An Outreach service team from the hospital, with the help from the local organizers, conduct eye screening camps on given dates in different areas.
Modern Equipment
Separate General OPD 

Dedicated Speciality Clinics 

Comprehensive Eye Checkup& Pediatric Eye Care Services

7 Eye Operation Theaters
General Out Patient Services, Dental Services, X-Ray, Pathology Services.